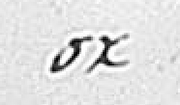 Translations
Edit
Pronunciation
Edit
In The Angelical Language Volume 2, page 406 Leitch notes that this word is part of Call 8 but was not given during the initial transmission, only during the transmission of the English translation. He also notes that this seems to be the case for other (unspecified) numbers as well. A True and Faithful Relation, page 192 is given as a reference here.
The Angelical Language Volume 2, page 103 Leitch suggests that ox may be a root word which implies something active or masculine (see ox root)
KN-001: This word seems to occur somewhat frequently in Loagaeth, because of this I theorize it has another meaning as well.
Community content is available under
CC-BY-SA
unless otherwise noted.