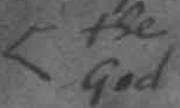 Translations
Edit
KN-001: God (n.)
Edit
Page 122
As described on page 121, the author has explicitly tried to remove Christian bias and create gender neutrality in his translations.
Pronunciation
Edit
AL-001: yad

(*Dee - Iad, as Yad) The I has the sound of "y" rather than "j"

DL-001: yad
KN-001: yad
KN-001: This does not (yet) seem to be used outside of this one instance not in a compound word, and here it seems to be part of the name of a specific entity. Based on this, I doubt this would be typically be used stand-alone to refer to the typical modern Christian concept of God, the Father, or to the Godhead/Trinity.
Community content is available under
CC-BY-SA
unless otherwise noted.