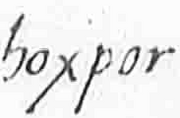 Translations
Edit
HOX is the root of the word HOXMARCH, meaning fear with P again being 8 and reminiscent of Hebrew Pe; here, giving us an allusion to the Tower Atu, we add OR, which is the Enochian F spelled in full; pronounced 'orh', which as ORH is the name of a spirit. The idea presents itself as: inspiration of fear and falling; using it as bringing fear in the text.
Community content is available under
CC-BY-SA
unless otherwise noted.