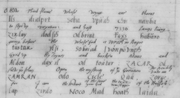 Angelical
Edit
Translations
Edit
O thow third flame whose whose wyngs are thorns to styr vp vexation and hast 7336 Lamps Liuing going before the[e], whose God is Wrath in Angre, gyrd vp thy loynes and harken. Moue and shew yor selues: open the Mysteries of yor Creation: be frendely vnto me: for I am the servant of the same your God, the true wurshipper of the Highest.
Community content is available under
CC-BY-SA
unless otherwise noted.